THE SWEET SPOT! The Murdick family!
Published: January 3, 2016
in News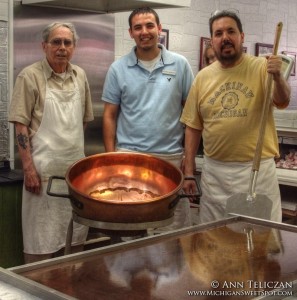 "It's almost impossible to go to northern Michigan without picking up some fudge. And, Murdick's Fudge is the place to go according to Michigan fudge insiders. The location in Mackinaw City is the original Murdick's Fudge and well worth visiting if you're in the area. Even better, you can order online, here's a link to the website, where you can order (in the original article) But don't blame me if you gain a few pounds after ordering, this stuff is gooood and it's hard to stop yourself from gorging! This photo is of the three generations of Murdick's  running the Mackinaw (City) store Fran Murdick, his son John and grandson Aaron."
http://michigansweetspot.com/the-original-murdicks-fudge/
Submit a Comment
You must be logged in to post a comment.